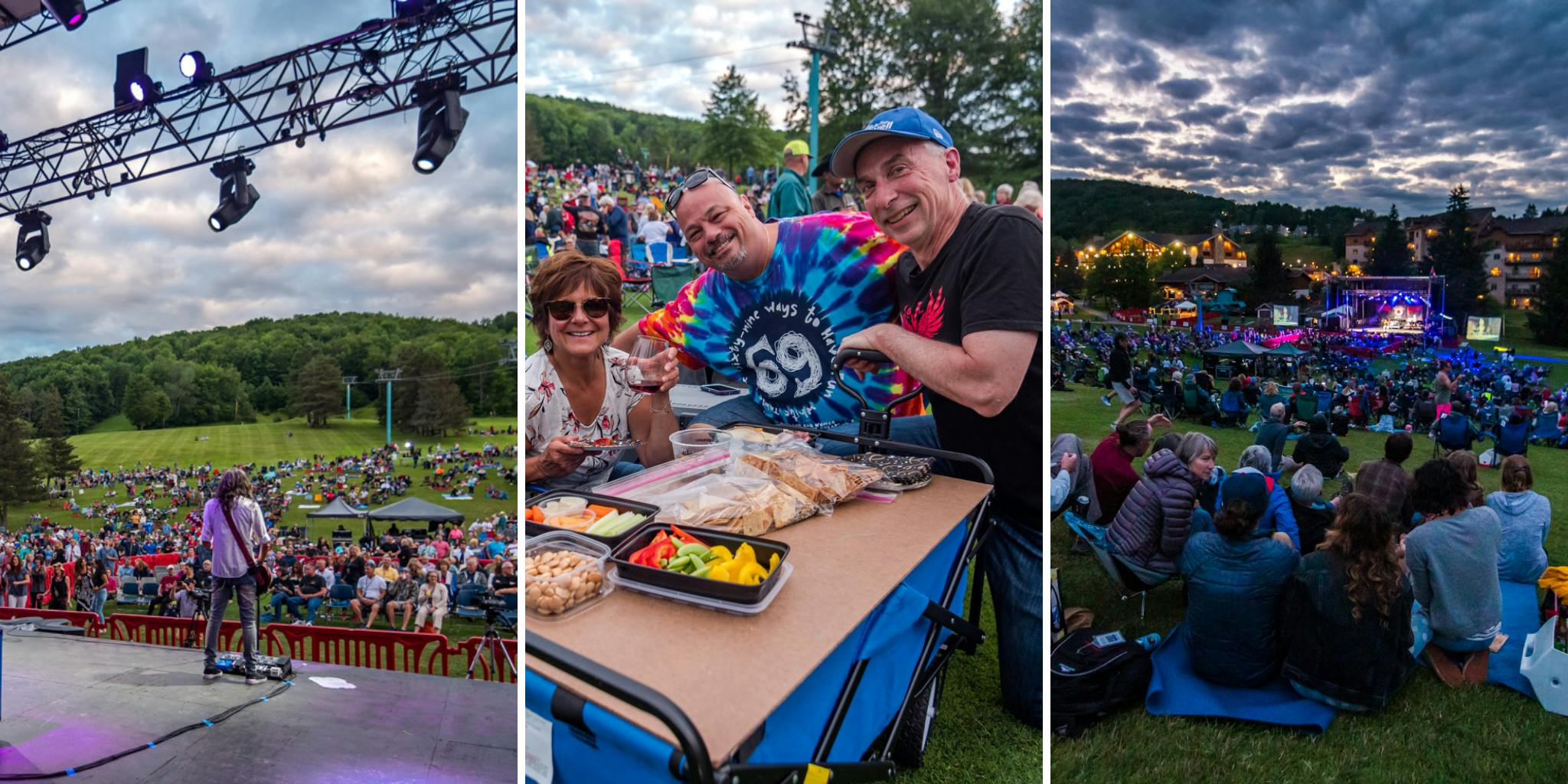 Concert Fans Are Loyal, Passionate, Knowledgeable and Have Tremendous Pride in Their Bands!
Holiday Valley, the Ellicottville Chamber of Commerce, and our valued partners are committed to providing all guests with a safe, clean, comfortable, and enjoyable concert experience inside and outside the facility. We strive to promote responsible behavior and make the fan experience family friendly, memorable, and positive for fans of all ages. Under no circumstance will any kind of irresponsible conduct be tolerated; some cases may result in ejection from the premises, revocation of ticket privileges, and/or arrest.
Everyone deserves the right to enjoy the excitement and enthusiasm of concert days. Please treat all fans with courtesy and respect.
FAQ'S
Q: What can I bring in with me?
Picnic baskets, coolers, chairs are allowed. All we ask is that you take with you everything that you brought to the concert. Trash receptacles are available, please use them.
Cameras (non-professional only; no detachable lenses)
Items not allowed on the grounds
Weapons of any kind
Illegal drugs/substances
Laser pointers
Animals (except service animals)
Fireworks
Grills, cooking equipment
Remote controlled devices
Bicycles, skateboards, rollerblades etc.
Q: Are tickets available at the gate?
Yes, cash or credit/debit cards are accepted, there is also an ATM on site.
Q: Where is ticket will call?
Will call is at the entrance to the event.
Q: What is the cost of parking?
Parking is free in the lots at the resort and are within a short walk.
Q: Can I leave and re-enter the concert area?
No, there is no re-entry allowed, so be sure to bring everything you need. It can get cool when the sun goes down, so you may wish to bring a sweater or blanket.
Q: What is included with the VIP package?
Please go to www.ellicottvilleny.com and log onto Summer Music Festival to see the details.
Q: If I order presale tickets, how will I get them and when can I expect them?
Tickets will be mailed within two weeks of receipt of your order.
Q: Is the venue handicapped accessible?
Yes, it is. Security at the vehicle entrance will direct you to handicap parking lot.
Q: Are there restroom facilities?
Portable restrooms and hand wash stations are provided, including handicap accessible.
Q: Are there rain dates for the concerts?
There are no rain dates and no refunds.
Q: What's the seating arrangement for the concert venue?
Unless you have a VIP pass, the lawn is general admission. (Lawn chairs are welcome!)
Q: Are there concessions inside the gate?
Yes, food and beverage concessions are immediately inside the main gate.
Q: What time to gates open?
Gates open at 5pm for both Saturday and Sunday.
Q: Is medical assistance available?
If someone has a medical emergency or requires special attention, seek concert security at the gates or in front of the stage. Medical staff and an ambulance will also be available near the concession stand adjacent to the entry gates.
Q: What is the smoking policy?
A designated smoking section is provided to the right of the stage.