Ellicottville Brewing Co. newest and now primary production facility located in Little Valley, completed with a pub and pizzeria! 
Ellicottville Brewing at Little Valley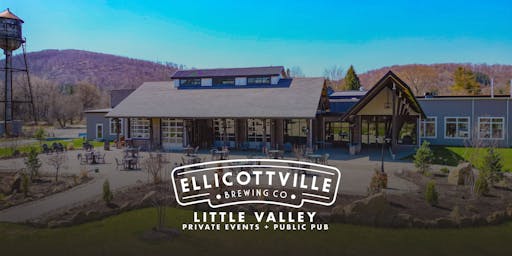 [email protected]
Ellicottville Brewing at Little Valley
Ellicottville Brewing Co. newest and now primary production facility located in Little Valley, completed with a pub and pizzeria!
"It's an extension of what we are already doing just in a completely different setting," says Peter Kreinheder, Founder of Ellicottville Brewing Company, "It's the idea of creating a family friendly place. It's not a place to come and just drink." Sourced from WKBW, click here to read more!
EBC Little Valley boasts seven different specialty pizzas - each baked to perfection in the new electric pizza oven. There is also the option to build your own Neapolitan masterpiece from a thoughtful listing of pizza toppings. As if all this were not enough, EBC's head chef, Josh McDowell, offers two different dessert pizzas, as well as a tempting selection of burgers and salads that round out the menu. Sourced from EllicottvilleNOW, click here to read more!