Allegheny National Forest- Kinzua Sky Walk
Allegheny National Forest Visitors Bureau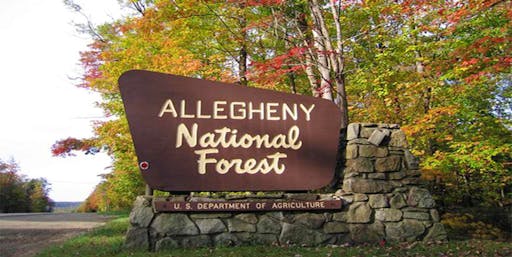 Allegheny National Forest Visitors Bureau
Allegheny National Forest- Kinzua Sky Walk
The ANF Visitors Bureau can provide you with FREE travel guides & maps, trail, local event, tourism and travel information on the Allegheny National Forest Region located just 20 minutes south of Ellicottville, New York. Our Welcome Center is located at 80 East Corydon Street, Bradford, PA, 16701, and is open 9:00 to 5:00 Monday through Friday. Call 800-473-9370 to order free guides, or go on-line at www.visitANF.com to download maps and the regional calendar of events.
Thrill to the adventure of "Walking the Tracks Across the Sky" at the Kinzua Bridge State Park, enjoy four-seasons of outdoor recreation in the great Allegheny National Forest; 513,000 acres of exciting outdoor recreational opportunities. Tour the museum and gift shop of Zippo lighters and Case knives in Bradford, PA.
Flickerwood Wine Cellars & CJ Spirits-a craft distillery, both located in Kane, Pennsylvania, offer tours and tasting rooms where you can sample the tastes of the Pennsylvania Wilds.
Hike, kayak, canoe or fish at Marilla Reservoir, located just west of the City of Bradford. Enjoy the views from the wooden covered bridge, or hike along the White Pine Trail to view majestic old growth forests. Plan your trail adventures! Choose your pleasure from the over 600 miles of trails, including ATV trails/with ATV rentals at Majestic Kamps & Lost Trails.
The Treasure of the Forest Shopping Trail highlights locally owned shops with handcrafted treasures along with tax-free clothing in Pennsylvania. History & Heritage Trails take you to the charming Victorian village of Smethport where you can enjoy a self-guided walking tour through the Smethport Mansion District. Educational resource guides are available for groups for the Eldred WW II Museum & the Penn Brad Oil Museum.
The Lodge at Glendorn, a Relais & Chateau property, located on over 1680 acres of private forestlands, offers exclusive, rustic elegance in lodging and dining. Three golf courses offer a variety of scenic challenges, with the Pennhills Club offering deluxe golf packages.
For additional information on lodging, restaurants, and other things to see & do click on www.VisitANF.com or call 800-473-9370.