Taproom Now Open!! 12 Gates' flagship beer is the well-known West Coast Style IPA, a dry citrus indulgence which leaves a clean palate. From traditional Pilsners to Double Stouts, the Brewing Company provides a range of styles that appeal to a wide range of consumers. The brewers tap into their Alchemic roots by experimenting with infusing new ingredients and flavors into the brewing process. Our beer is distributed in bars and restaurants throughout Western New York with our newest taproom located in the village of Ellicottville, NY. Stop in and enjoy our flavor packed menu and craft brews! 
12 Gates of EVL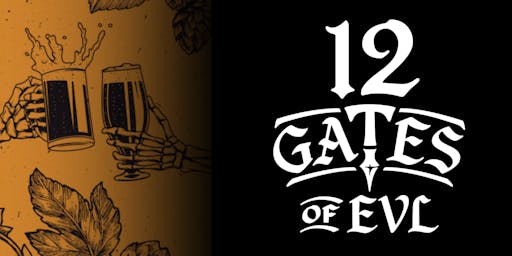 716-699-1313
14 Washington St.
Ellicottville, NY 14731
Directions
12 Gates of EVL
Taproom Now Open!!
12 Gates' flagship beer is the well-known West Coast Style IPA, a dry citrus indulgence which leaves a clean palate. From traditional Pilsners to Double Stouts, the Brewing Company provides a range of styles that appeal to a wide range of consumers. The brewers tap into their Alchemic roots by experimenting with infusing new ingredients and flavors into the brewing process.
Our beer is distributed in bars and restaurants throughout Western New York with our newest taproom located in the village of Ellicottville, NY. Stop in and enjoy our flavor packed menu and craft brews!