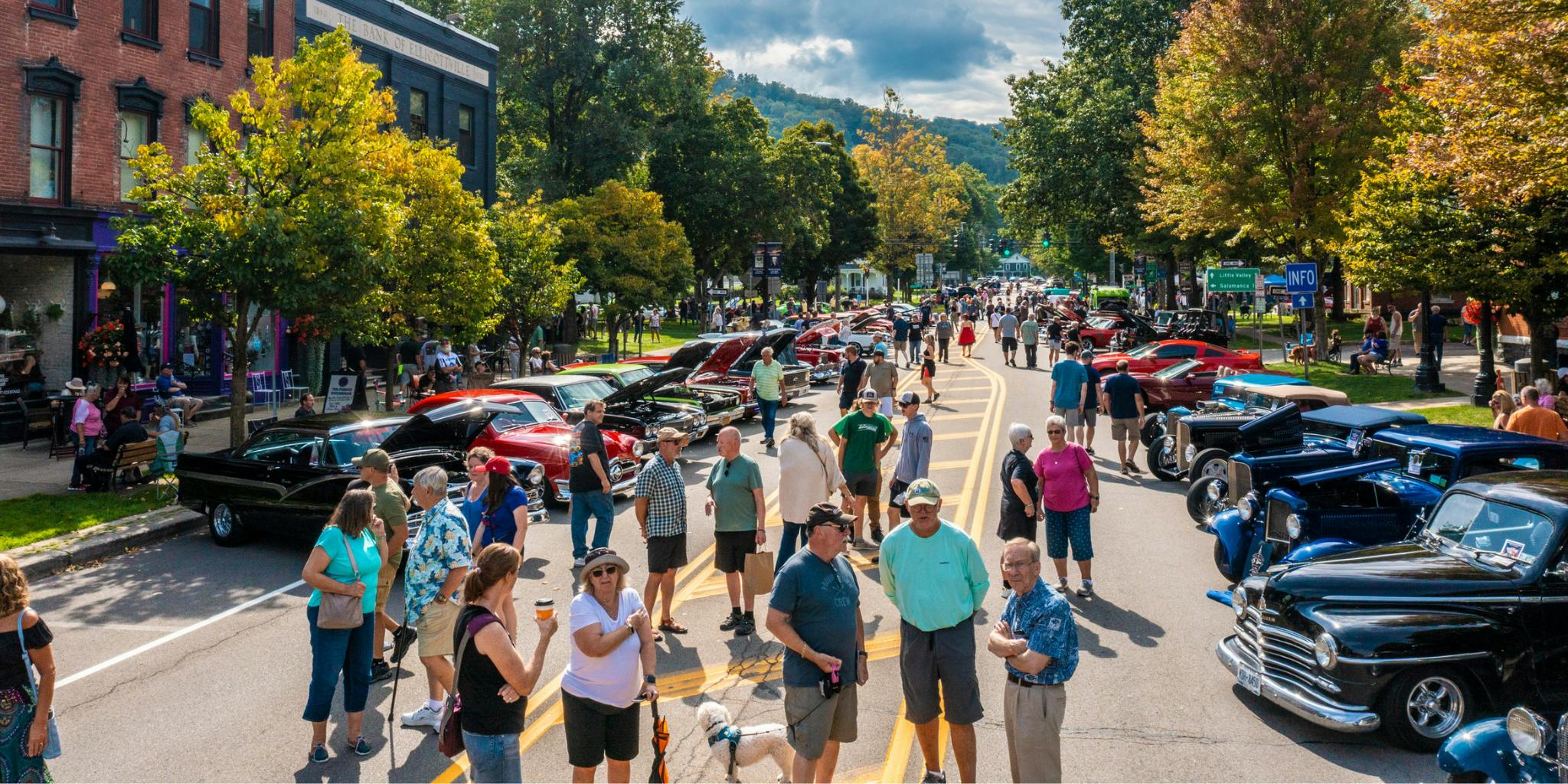 Rock 'n' Roll Weekend in Ellicottville, NY: A Music and Car Extravaganza!
Locals and visitors alike are eagerly counting down the days to their favorite annual event - the Rock 'n' Roll Weekend September 15th – 17th! This beloved tradition has been shaking up the picturesque streets of Ellicottville for over two decades, offering a blend of electrifying live music, and a touch of classic automobiles that brings the whole community together.
A Musical Spectacle:
From the moment the weekend kicks off, the air in Ellicottville is charged with excitement and rhythm. With over 15 regional bands set to take our stage at legendary bars and restaurants throughout the village, music enthusiasts are in for a treat. Whether you're a fan of soulful blues, heart-pounding rock anthems, or groovy tunes that make it impossible not to dance, this weekend has something to satisfy every musical craving. Best of all, all the performances are free of charge, making it accessible for everyone to soak in the magic of live music.
Highlight Performances:
Saturday, 1PM - "Queen City" Tribute to Queen: Get ready to be transported back to the heyday of Freddie Mercury and Queen's legendary performances. The outdoor live show promises an unforgettable experience for music aficionados of all ages.
Sunday, 11AM – 1PM- Ms. Evl Rock N' Roll pin up contest: It's a celebration of femininity, grace, and empowerment and we couldn't think of a better backdrop then streets lined with classic cars. During the contest there will also be a silent auction and 50/50 raffle, proceeds will be donated to the National Alliance on Mental Illness.
Sunday, 1:30PM - Terry Buchwald's Elvis Show: It's time to put on your blue suede shoes and enjoy a blast from the past with Terry Buchwald's sensational Elvis tribute. From hip-swiveling classics to iconic ballads, this performance is bound to have the crowd all shook up.
Classic Cars and Trucks:
While the music is sure to get your heart pumping, the Rock 'n' Roll Weekend offers more than just tunes. On Sunday, car enthusiasts will be treated to a gleaming display of over 250 vehicles during the annual car and truck show. The Village Streets will be transformed into a vibrant showcase of classic and custom automobiles, spanning eras and styles. From vintage classics to roaring trucks, every corner you turn will reveal a unique automotive gem.
Community Tradition:
For over two decades, the Rock 'n' Roll Weekend has been etched into the cultural fabric of Ellicottville. Locals and visitors eagerly anticipate this event as a beginning to the autumn season, a time when families, friends, and music lovers unite for a weekend of unparalleled entertainment. As the music fills the air and the streets come alive with the energy of the crowd, it's easy to see why this event has stood the test of time.
Immerse Yourself in Ellicottville:
As you enjoy the music and marvel at the automotive beauties on display, take a moment to soak in the unique charm of Ellicottville. With a four-block radius boasting an array of delightful dining experiences, charming boutiques, and inviting shops, there's something for everyone. Whether you're indulging in gourmet treats, shopping for one-of-a-kind treasures, or simply strolling through the streets, the atmosphere is sure to captivate you.
Experience the utmost convenience and immerse yourself in the heart of the action with our exceptional overnight lodging accommodations nestled in the heart of our walkable 4-block village. When the sun sets and the vibrant energy of the Rock 'n' Roll Weekend continues to pulse through the streets, you won't have to travel far to find your sanctuary. Choose from a range of cozy accommodations just steps away from the festivities. From charming bed-and-breakfasts to boutique inns, every corner of our village offers a cozy haven for you to recharge.
So mark your calendars and get ready for a rockin' good time at the Rock 'n' Roll Weekend in Ellicottville, NY. This perfect blend of music, classic cars, and community spirit promises a fall weekend you won't soon forget. Join the celebration and be part of the tradition that has been making hearts sing and engines roar for over 20 years.
Release Date: 08/30/2023
Jessica Wallace I Ellicottville Chamber of Commerce