Moving is one of life's greatest adventures
Tina J Dillon, GRI Realtor – Howard Hanna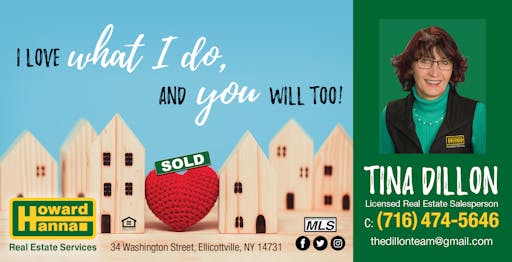 Facebook
Tina J Dillon, GRI Realtor – Howard Hanna
Moving is one of life's greatest adventures. It is a time of discovery, meeting new people and the start of creating a lifetime of new memories and traditions. It is my honor to help match you with the perfect house, vacation property, condo, townhouse, or ski chalet.
Real Estate in Ellicottville and the entire Southern Tier is what I specialize in. With 30+ years' experience, I pride myself professionally by knowing my market; offering quality service to my clients and customers in order to meet all of your real estate buying or selling needs.
My mission for tinadillon.net is to provide real estate information for both buyers and sellers, including useful tips about the process of buying or selling a property. My clients will tell you, when I am hired to represent them, I take that trust very seriously and make sure that their interests are best represented at all times.